The night the mountains fell…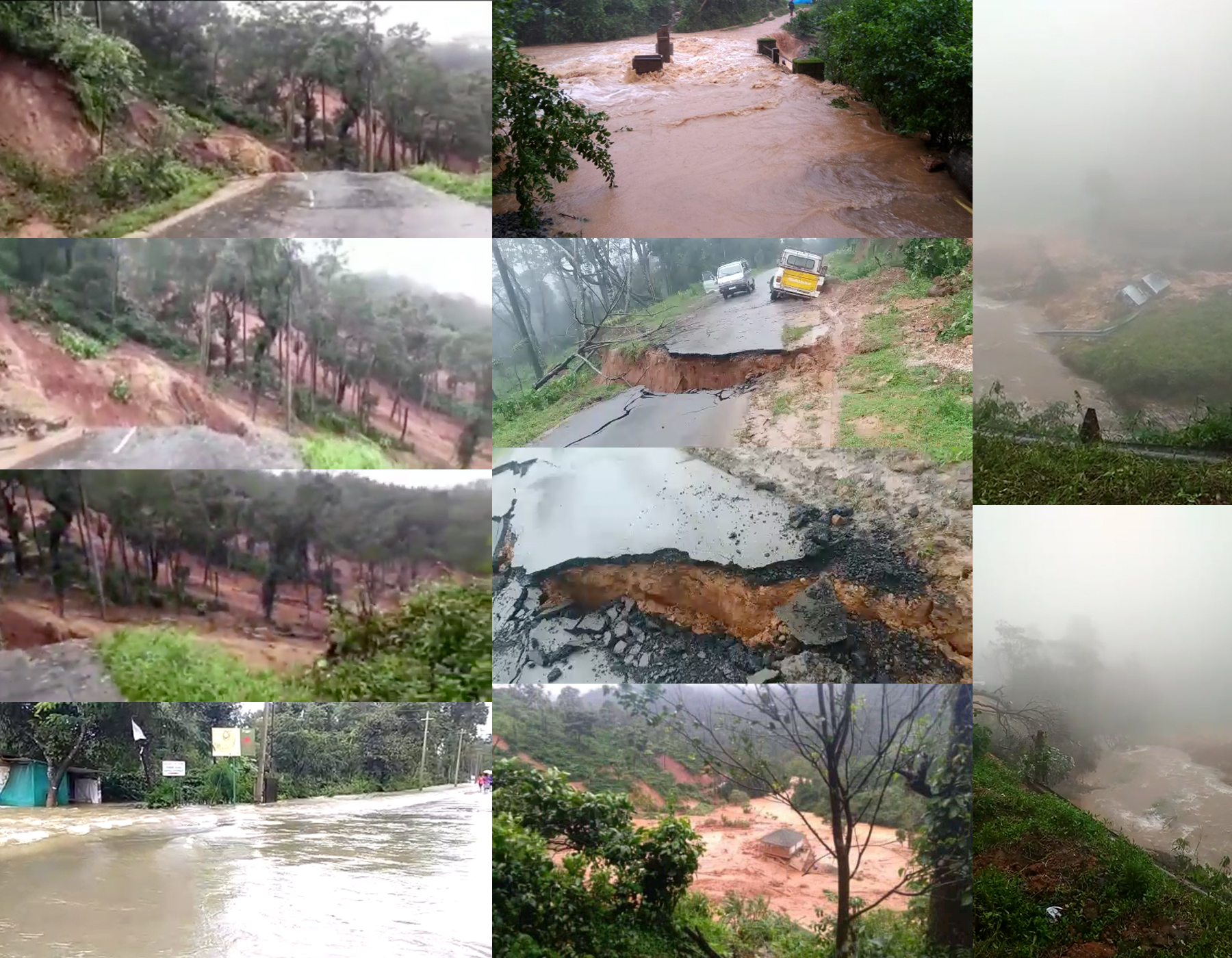 The Western Ghats in India have been experiencing one of the worst natural calamities in recent history. Kerala is facing its worst flood in 100 years. Over 350 lives lost and more than 223150 people in over 1500 relief camps. Kodagu is a district in Karnataka adjacent to Kerala. Though Kodagu was facing the same fury of the monsoon rains that decimated Kerala little or nothing was being reported. Mainly because the population of this district is limited and also because politically it not a significant vote bank. Culturally and religiously Kodagu is very different from mainstream Karnataka and mainstream India. So, all things considered, no political leader took a step forward to help out immediately.
Here is a little story of how my Aunt survived the night the mountains fell.
My 66-year-old Aunt around lost her husband 3 months ago. She lives alone is a village called  Hatti near Madikeri. Her companion – a rescue puppy that she took home from  Bangalore.
In the area that she was living in little springs started to erupt from the earth. One erupted in her bathroom and she managed to divert it but did not pay attention to the warning signs. On the night of August 16th, she went to bed as usual. It was raining outside and she had her pup with her warm in the house.
At around 12:30 am that night she heard a thunderous roar. Like the earth crashing. Like the earth splitting. Like thunder under her feet. A sound she will never be able to describe. Within minutes of this sound, her neighbour who lives a few 100 meters away came knocking, urging her to leave with them. He told her that the mountain was shaking and they could not tell in the dark about the movement of the earth. Something bigger than they could imagine of was happening. And that they better go to a flatter, safer terrain.
She doesn't remember the moment she left the house. She didn't take anything with her.
The neighbour's family and my Aunt ran in the rain in the middle of the dark night in the direction that their  guts guided them. Within minutes of leaving her house, her slippers got stuck in the mud and her night clothes that she left her home with were soaked. They ran towards Kannakolli junction. It took them over 2 hours to reach the junction and then they made their way to a relatives house. There are no roads that connect to that house. Just mud paths over uneven terrain. They reached there at around 2:30 at night.
They collectively decided to rest till the morning.
In less than 2 hours the house that they were resting in cracked open as a huge spring burst through the floors. Their resting place was not safe anymore. All of them had to leave the house before it crumbled under the pressure of the spring. They ran blindly in the dark once again. They began another long and arduous journey towards Suntikoppa town. The roads were filled with rouble and there were landslides everywhere.
She doesn't recall much about this part of her journey as yet. She had been running, walking barefoot in the cold wet rain for over 8 hours.
At around 9 am they reached a slightly wider road, near an open area where they spotted a rescue mission in the process. They were individually lifted with ropes and over 100 rescued people were packed in a truck and dropped off in a little church in Suntikoppa. At 10:30 am she found a working phone and called her son. Her son could not reach her because the roads and highways have all disappeared. Lucky for them they had a friend in that area who went and picked her up. Her nephew reached their friend's house and got her to his house in Gonikoppa at 4:30 in the evening.
My Aunt doesn't know if the house that they have know as home for over half a century still exists. All she can think about right now is the little puppy she left behind. There is no road, way or path to go home.
My Aunt's story is not an isolated one. Kodagu has been decimated. A lot of people are not reachable by phone or road. Electricity has been cut off. Roads have vanished. Mountains have fallen. The extent of damage cannot be assessed. They are many in desperate need of food, warm clothes, clean drinking water, and medical assistance.
The People of Coorg are resilient and helping each other is all ways that they can. They are the Gods that are there in the need of the hour.
Kodagu or Coorg as it is popularly known always gets a step-motherly treatment from the government. But the apathy of the govt. in this hour of crisis is criminal. The rescue mission that was deployed many days too late is now in motion. Much has been lost and hundreds have been reported missing.
Crying out loud to all those who can to Rescue Coorg, Save Coorg, and Re-build Coorg.